Graduate Catalog 2009-2010
[ARCHIVED CATALOG]
Occupational Therapy, MSOT
---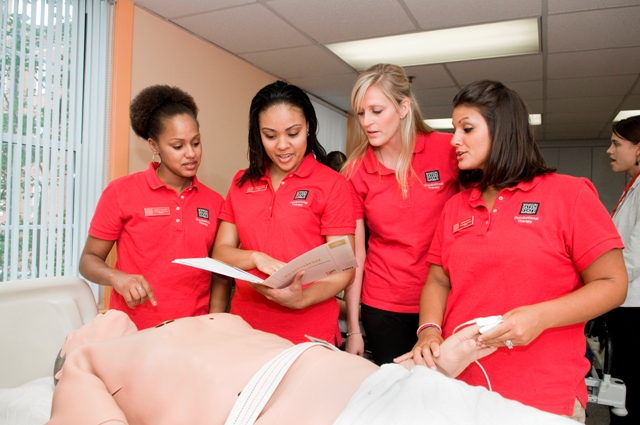 The Master of Science in Occupational Therapy (MSOT) program prepares individuals for the entry-level master's degree.  The 2.5 year program consists of 72 credit hours. Upon completion, graduates will demonstrate competency to work with persons of all ages to achieve their highest level of independent functioning.
Occupational therapists may use "hands on" techniques, creative solutions, technology, and resources to assist individuals in overcoming physical and mental challenges, to promote wellness and to live a productive lifestyle. The program design provides graduates with critical thinking skills and the integration of theory and practice with an emphasis in clinical and community practice, research, administration, and consumer education. Academic coursework and practical skills are synergistically integrated into the curriculum and includes core courses on the study of the following: occupation, theories, assessments and interventions, methods of practice, fieldwork experiences, and a capstone research project.
 
Learning Outcomes
Graduates of the Occupational Therapy Program will:
incorporate occupation-based frame of references in the delivery of occupational therapy services
plan and implement client-centered services in a variety of settings
organize services and manage resources in diverse arenas of practice
apply principles of evidence-based research in scholarly works and practice
implement multiple methodologies for educating and promoting health and wellness of individuals in community-based practice environments, clinical settings, and emerging areas
work with a variety of cultures and populations
employ technology in teaching, learning and adaptation of the environment
engage in ethical behaviors that demonstrate professional responsibility relating to professionalism, research and practice
 
Admission Requirements
Students seeking admission into the Master of Science in Occupational Therapy Program must have:
A baccalaureate degree from an accredited college or university
A cumulative GPA of 3.00
Graduate Record Exam within five (5) years of applying for admission
Minimum of forty (40) hours of volunteer or work experience in the field of occupational therapy
Three letters of references (one letter must be completed by the occupational therapy supervisor where student volunteered or worked)
Written essay
Grade of "C" or better in the following prerequisites:
Prerequisites Credit
| | |
| --- | --- |
| Human Anatomy and Physiology with lab (2 courses) | 6-8 |
| Lifespan Human Growth and Development or Developmental Psychology | 3 |
| Kinesiology or Biomechanics | 3 |
| | 3 |
| | 3 |
| Sociology or Anthropology | 3 |
| | 1 |
 
Application Deadlines
The early fall admission deadline is January 15th.  In order for applicants to be considered for early admission, they must have documentation that all requirements have been met.  The deadline for regular fall admission is March 15th. Application packets must be complete before processing.
 
Transfer Credits
Subject to approval and review of transcript, up to six (6) hours of graduate transfer credits may be applied toward the MSOT. Transfer credits will only be considered for graduate level courses completed with a grade of "B" or higher within the last five (5) years. No transfer credits will be accepted for intervention courses.
 
Degree Requirements
Graduates earn an entry-level masters degree in this 2.5-year curriculum by completing the required 72 semester hours of coursework.  This coursework includes twenty-four (24) weeks of fulltime fieldwork under the supervision of a registered occupational therapist. All students are required to maintain a 3.0 GPA or higher throughout the program and successfully complete academic coursework, and Levels I and II Fieldwork experience prior to graduation.

Health and Other Requirements
The following health related documentations must be provided to the Department of Occupational Therapy and WSSU Student Health Services. These must be kept current throughout the entire program. Any student who allows these requirements to expire is subject to being withdrawn from fieldwork courses, participation in community or clinical aspect of a course, and/or the program.
Students accepted for admission must submit proof of the following prior to starting the program:
CPR Certification in American Heart Association Health Care Provider, BLS (2 years)
Current and complete physical examination (within the past 6 months)
Immunization records required by WSSU as well as (3) Diphtheria, Tetanus, Pertussis (DPT) doses or (3) Tetanus-Diphtheria (TD) doses. One (TD) must be administered within the past 10 years prior to admission into the occupational therapy program. 
Proof of one Rubella dose or adequate titer (not required for 50 years or older); and one Rubeola (measles) dose or adequate titer (not required for students born prior to 1957).
Verification of having had chicken pox or vaccine.
Tuberculin skin test or chest x-ray (within the past 6 months)
Documentation of completion of Hepatitis B vaccine series or waiver
Criminal background checks (at the student's expense) 
Drug screens (may be required at the student's expense)
Proof of professional liability.
Uniforms may be required in some settings
 
Time Limits for Completion
The Master of Science in Occupational Therapy (MSOT) program can be completed within 2.5 years of full-time study. A student may not take longer than six years to complete the curriculum.
Fieldwork
The MSOT program offers several types of fieldwork experiences integrated throughout the curriculum designed to provide students with the opportunity for carrying out professional responsibilities under appropriate supervision and professional role modeling. All fieldwork experiences are graded on a pass/fail basis. There are six fieldwork experiences offered in the curriculum: Four formal Level I Fieldwork Practicums and two Level II Fieldwork courses.
Level I fieldwork practicums are designed to be completed during the same semesters as didactic coursework. After successful completion students enroll in two sequential Level II fieldwork experiences lasting six months. The expectation is that student's need to perform as competent entry-level occupational therapists by the end of each of the Level II Fieldwork experiences. Level II Fieldwork must be passed successfully in order to receive the MSOT degree and to sit for the National Certification Examination.
Due to the competition for fieldwork sites, occupational therapy students within this program must be prepared to relocate, possibly out of state, during Level I and II fieldwork experiences.  A criminal background and/or drug screen check may be required by facilities prior to beginning fieldwork. All fieldwork must be completed in no more than 24 months following the completion of academic coursework and prior to graduation.
Fieldwork Related Expenses:
WSSU is dedicated to providing the best available clinical sites to students for fieldwork experiences. For this reason, students must be prepared to travel or relocate, possibly out of state for fieldwork experiences. Students are typically not paid during fieldwork experiences and may be responsible for related expenses. Some facilities may require extra fees such as lab coat, parking, specific health tests, etc.  Stipends, transportation and housing are not typically provided or arranged for students during fieldwork. Due to the time commitment of Level II fieldwork, a student should not plan to work in additional employment.  
Fieldwork Requirements:
Students will have to provide their own transportation to and from course experiences, clinical and fieldwork sites. Parking fees maybe applicable. Students are responsible for arranging their own housing during clinical experiences.  
Student will need malpractice/liability insurance prior to beginning clinical and fieldwork experiences (obtained annually through WSSU).
Students are required to present proof of their own health insurance coverage. At this time, this coverage is not included in student fees and is an additional cost, but is available through the University if needed. Additional coverage may be required while during fieldwork assignments for hospitalization.
If a criminal background check or drug test is necessary, due to the requirements of a fieldwork site (if the site cannot accept the one done upon admission to the MSOT program), it will be the student's responsibility to obtain and pay for these items unless the facility covers these tests. Other expenses may be necessary due to the requirements of fieldwork sites.

 
Course of Study
---
Electives
---

 Faculty


Cynthia S. Bell
Assistant Professor of Occupational Therapy
 
Academic Fieldwork Coordinator
B.A., Miami University; M.S., Western Michigan University; Ph.D., Nova Southeastern University
 
 
 
Dorothy P. Bethea
Chair and Associate Professor of Occupational Therapy
B.S., University of Alabama; MPA., University of North Carolina—Greensboro; Ed.D., Argosy University
 
 
 
Elizabeth A. Fain
Instructor of Occupational Therapy
B.S., Medical College of Georgia,
M.H.S, Health Sciences, Medical University of South Carolina,
Ed.S. Applalachian State University
 
 
 
Anne E. Jenkins
Assistant Professor of Occupational Therapy 
B.S., New York University; Ed.M., M.A., Special Education,
Columbia University; M.Div., Virginia Union University;
D.Min., Gordon-Conwell Theological Seminary
 
 
 
Brenda Kennell
Clinical Assistant Professor of Occupational Therapy
B.S., University of Wisconsin, M.A., Special Education
California State University
 
 
 
Darlene Perez-Brown
Clinical Associate Professor of
Occupational Therapy
B.S., University of Puerto Rico,
M.A., Ph.D., Southwestern Baptist Theological Seminary
 
---
Accreditation:
Accreditation Council for Occupational Therapy Education (ACOTE) of the American Occupational Therapy Association
4720 Montgomery Lane
P.O. Box 31220
Bethesda, MD 20824-1220
Telephone (301) 652-2682
Certification:
Graduates of the program will be eligible to take the national certification examination for occupational therapists administered by the National Board for Certification of Occupational Therapy.  Successful completion of this exam will enable the individual to be designated an Occupational Therapist Registered (OTR).  Most states require license to practice.  Please note that a felony conviction may affect a graduate's ability to take the NBCOT certification examination or to attain state licensure.  Persons with concerns should contact:
National Board of Certification in Occupational Therapy
The Eugene B. Casey Building
800 South Frederick Avenue
Suite 200
Gaithersburg, MD 20877-4150
Telephone (301) 990-7979
Departmental Links