Graduate Catalog 2009-2010
[ARCHIVED CATALOG]
Business Administration, MBA
---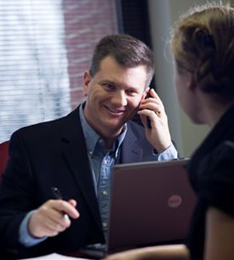 The MBA program at Winston-Salem State University is designed to meet the needs of working professionals. The MBA program is part-time and offered only in the evenings. The program enhances analytical expertise, oral and written communication skills, appreciation of cultural diversity, global awareness, and the ability to work well in teams. WSSU's MBA program permits students to enroll in either fall or spring semester.
Students who complete the MBA degree will be prepared for a variety of professional opportunities in both corporate and non-corporate settings. Once students complete their core MBA courses (nine courses or 27 semester hours) they have the opportunity to choose three electives from a variety of disciplines including, but not limited to, financial services, management information systems, international business, and management. WSSU's MBA program is flexible - each student can choose three electives that best meet his/her career goals and skill sets needed for advancement.
This program is open to graduates from all disciplines. Some students may be admitted to the MBA program lacking undergraduate prerequisites in business. Such students may be required to complete foundation courses in the areas of accounting, economics, and/or business statistics. These foundation courses can be met by taking appropriate undergraduate courses at WSSU or equivalent courses from an accredited institution. The Assistant Dean will review and determine suitable courses for the plan of study.
 
Learning Outcomes
Upon graduation, we would like our MBA graduate to:
Demonstrate global awareness and a multicultural perspective.
Recognize and respond to ethical concerns in a business situation.
Integrate business knowledge to be effective problem solvers.
Become effective communicators.
Exhibit leadership. 
Exhibit team skills.
 
Admission Requirements
Bachelor's Degree from an accredited college or university
WSSU graduate school application
Graduate Management Admission Test®—(GMAT® scores)
An applicant must score a minimum of 400 on the GMAT (verbal and quantitative) to be eligible for admission. In addition to scoring 400 on the GMAT (verbal and quantitative), students must obtain a total of 1000 points based on the following formula: undergraduate GPA x 200 + GMAT score >/=1000 points.
Points will be awarded for work experience for those applicants who score at least 400 on the GMAT but fall short of 1000 points. The number of points awarded will be based on the number of years of work experience and the type of work. The maximum number of points awarded for work experience is 100.
Points will be awarded based on an applicant's AWA score (essay portion of the GMAT). The maximum number of points awarded for the Essay (AWA section) is 60. These points will be added to the applicant's total score based on the formula mentioned earlier but will not remove the need for an applicant to obtain a minimum GMAT score of 400.
Additional admission requirements are:
Acceptance into the WSSU Graduate School
Three letters of recommendation
Admissions essay—"Why I want an MBA and why I want to obtain it from WSSU." Please also indicate in your essay the reasons why you believe that you will be successful in the MBA program.
Resume
Two official copies of all transcripts
$50.00 application fee
 
Application Deadline
The deadline for receipt of all application materials is July 15th for fall semester admission and November 15th for spring semester admission. Since preferred consideration is given to those applicants who submit their applications early, all application materials should be submitted as soon as possible (Deadlines are subject to change).
 
Transfer Credits
Subject to the approval by the Assistant Dean for Graduate Business Programs, up to six hours of graduate transfer credit may be applied toward the MBA. Graduate transfer credit will only be granted for courses completed with a grade of "B" or better and taken within the last five years.
 
Degree Requirements
 
Students in the MBA program must complete a total of thirty-six (36) credit hours to complete degree requirements. Additionally, they must maintain an overall grade point average of 3.0 ("B" average). No more than two grades of "C" or less may be earned in the program.
Time Limits for Completion
If a student enters the MBA program having met the prerequisite requirements, he/she can complete the program in four (4) semesters and two (2) summers. The time limit for completion of the program is five (5) years.
Course of Study - Core Courses
---
*In addition to the above core courses, each student will take 3 electives chosen from a variety of offerings.
---

Faculty

Jessica M. Bailey
Professor of Marketing Dean, School of Business and Economics
B.S., M.Ed., Coppin State University;
M.B.A., Ph.D., University of Missouri–Columbia
 
 
Sylvia A. Bembry
Associate Professor of Management Information Systems
B.S., Albany State University;
M.S., Indiana University; Ph.D., University of Iowa
 
 
Monica Cain
Assistant Professor of Economics
B.A., Walsh College; M.A., M.S., PhD., Wayne State University
 
 
Moula Cherikh
Associate Professor of
Operations Management
B.S., University des Sciences et Technologies, Algiers;
M.S., PhD., Case Western Reserve University
 
 
Gloria M. Clark
Associate Professor of Accounting
B.S., Central State University;
M.B.A., Ed.D., Atlanta University
 
 
Cretson Dalmadge
Assistant Professor of Management
Information Systems
B.S., University of the West Indies;
M.B.A., Ph.D., Southern Illinois University
 
 
Nicholas Daves
Instructor of Financial Planning Director, Center for Financial Services
A.B., Davidson College;
M.B.A., University of North Carolina–Chapel Hill
 
 
Suresh Gopalan
 
B.Com., Loyola College, University of Madras, India;
M.B.A., University of Southern Mississippi; D.B.A., Louisiana Tech University
Associate Professor of Management Assistant Dean,
Graduate Business Programs Acting Chair,
Management and Marketing 
 
 
Amanda Gray
Assistant Professor of Management
B.A., Agnes Scott College; M.S., Ph.D., University of Georgia
 
 
George E. Heilman
Assistant Professor of Management Information Systems
B.A., Purdue University; M.B.A., Indiana University;
PhD., University of Arkansas
 
 
Robert A. Herring, III
Associate Professor of Management
B.A., University of Mississippi; M.A., Chapman College;
M.B.A., Ph.D., Florida State University
 
 
George A. Johnson
Associate Professor of Accounting
B.A., Kent State University;
M.B.A., Ph.D., Virginia Polytechnic Institute & State University
 
 
Thomas O. Jones
Instructor of Business
B.S., The University of Southwestern Louisiana;
M.B.A., D.B.A., George Washington University
 
 
Stephanie Joseph-Meredith
Instructor of Business Law
B.S., Appalachian State University; J.D., Pepperdine University School of Law
 
 
Alican Kavas
Professor of Marketing
B.A., Ege University; M.B.A., Michigan State University;
Ph.D., University of South Carolina—Columbia
 
 
Mak Khojasteh
Professor of Management
B.S., Gilan College of Management; M.S., Iowa State University;
D.B.A., United States International University
 
 
Joel Kincaid
Assistant Professor of Economics
B.A., Masters of Economics, Ph.D., North Carolina State University
 
 
Zagros Madjd-Sadjadi
Assistant Professor of Economics
B.S., B.A., Sonoma State University; Ph.D. University of Southern California
 
 
Sathasivam Mathiyalakan
Assistant Professor of Management
Information Systems
B.S. (Eng) University of Moratuwa, Sri Lanka;
M.B.M., Asian Institute of Management, Philippines;
Ph.D. University of Kentucky
 
 
Russell S. Morton
Associate Professor of Management Information Systems Chair, Accounting and Management Information Systems
B.S., M.B.A., University of Colorado at Denver;
Ph.D., University of Kentucky
 
 
Clive Muir
Associate Professor of Business Administration
B.S., University of the West Indies, Bahamas/Jamaica;
M.A., Ph.D., New Mexico State University
 
 
Kal Namit
Professor of Quantitative Management
B.S., Thai Military Academy, Bangkok, Thailand;
M.B.A., Ph.D., University of Wisconsin at Madison
 
 
Janet Neal
Assistant Professor of Marketing
B.S., Radford University;
M.B.A., Ph.D., Virginia Polytechnic Institute and State University
 
 
Notis Pagiavlas
Associate Professor of Marketing Director, Center for Entrepreneurship
B.A., University of California, San Diego;
Ph.D., University of Texas at Arlington
 
 
Craig Richardson
Associate Professor of Economics 
B.A., Kenyon College; Ph.D., Univeristy of North
Carolina
 
 
 
Swapan Sen
Associate Professor of Finance
B.A., M.A., University of Calcutta; Ph.D., University of Nebraska
 
 
Janice Witt Smith
Associate Professor of Management
B.S., Indiana University;
M.B.A., Ph.D., Virginia Polytechnic Institute & State University
 
 
Deborah Stephenson
Instructor of Accounting
B.S., Shippensburg University; M.B.A., Syracuse University
 
 
David Bruce Stewart
Associate Professor of Finance Chair, Economics and Finance
B.S., M.S., Purdue University;
M.B.A., Indiana University; Ph.D., University of Tennessee
 
 
Doria Kathleen Stitts
Associate Professor of Marketing
Associate Dean, School of Business and Economics
B.S., M.B.A., Florida A&M University;
Ph.D., Florida State University
 
 
Gregory Taylor
Associate Professor of Management Information Systems
B.S., Miami University, Oxford, OH: M.S.,
Ph.D., Texas Tech University
 
 
Leslie W. Weisenfeld
Sara Lee Professor of Accounting
B.A., St. Lawrence University; M.B.A., Clarkson College of Technology;
Ph.D., Virginia Polytechnic Institute & State University
 
 
Sharon White
Assistant Professor of Management Information Systems
B.A., University of Georgia; M.B.A., Ph.D., Florida State University
 
 
Edward Zajicek
Assistant Professor of Economics
B.S., Warsaw Polytechnic; M.S., The Central School of Planning and Statistics;
Ph.D., Virginia Polytechnic Institute and State University
 
 
 
 
Departmental Links