Graduate Catalog 2013-2014
[ARCHIVED CATALOG]
Master of Healthcare Administration - MHA
---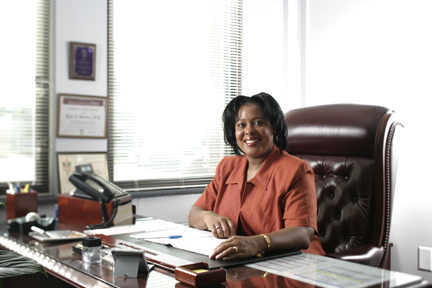 Master of Healthcare Administration
---
We are committed to being the premier, dynamic, graduate program focused on learning and service, where students from culturally diverse backgrounds fulfill their potential as leaders in healthcare management. The WSSU Master of Healthcare Administration (MHA) program is a part-time program that strives to increase the participation of underrepresented populations in the Piedmont Triad region of North Carolina. The MHA program provides a comprehensive graduate experience designed to meet the needs of working professionals who are in the early stages of their careers. Led by a mixture of faculty drawn from academic and professional backgrounds, students gain competencies in management and business functions that are applicable to a wide range of healthcare organizations. 
We value
Compassion for all
Leadership that makes a difference
Integrity in all situations
Excellence in all undertakings
Diversity focused on inclusion
Service as a creed for life
Program Goals
The program will include a student body of culturally-diverse working professionals, including members of populations that are underrepresented in the healthcare administration field.

The program will utilize faculty with academic and professional backgrounds that support the curriculum.

The program will be grounded in values that serve as guides to behavior and decision-making.

The Program curriculum will be based on an appropriate competency model.

Graduates will demonstrate competency in business functions core to healthcare management.

The program will produce research that supports the mission, vision and values of the program.

The program will encourage service to the university and the community.


 
Application Deadline
July 15 for fall semester, November 15 for spring semester
International students must submit no later than September 15 for consideration for the spring semester and April 15 for the fall semester.
Transfer Credits

Subject to the approval of the Graduate Program Coordinator, up to 9 hours of graduate transfer credit may be applied toward the MHA.  Graduate transfer credit will only be granted for courses completed with a grade of "B" or better and taken within the last five (5) years.
Degree Requirements

The MHA program consists of 45 credit hours: 16 courses (there are no internship requirements).  Students in the MHA program must maintain an overall GPA of 3.0 ("B" average); no more than two grades of "C" are allowed.
Time Limits for Completion

The time limit for completion of the program is six years.
Program Structure

Students are only admitted in the fall. The MHA is a lock-step program that utilizes the cohort structure. Students following the prescribed plan of study can complete the MHA program in 2-1/2 years (five semesters and two summers).  
Courses
Admission Requirements  
Bachelor's degree from an accredited institution
Cumulative undergraduate GPA of 2.75
Electronic submission of application to the HAMPCAS enrollment management portal (https://portal.hampcas.org/) designating your wish to apply to Winston-Salem State University
GRE score
One official copy of all transcripts
Three recommendation letters
Admissions essay focusing on "Why I want to pursue an MHA and why I want to obtain it at WSSU"
Resume' – work experience is a critical component of the admission process
$50 application fee


Since preferred consideration is given to those who submit their application early, all application materials should be submitted as soon as possible. 

All application materials should be submitted to:

HAMPCAS
P.O. Box 9122
Watertown, MA 02471
International students must also provide a financial certification of sufficient funds to carry on graduate study, a sponsor's affidavit, and an evaluation of transcripts by an International Education Evaluation Services.  Those who do not have English as their native language must provide TOEFL scores of 550 or better (written) or 213 (computer) Or IELTS scored of 6.5 or better.
 
Faculty
Zagros Madjd-Sadj, J.D.
Professor of Economics and MHA Coordinator
B.S. , B.A. Sonoma State University
Ph.D., University of Southern California 
Stephen Aragon, Ph.D.
Associate Professor of Management 
B.S., The University of Tampa
M.H.A.., The George Washington University
Ph.D., University of North Carolina, Greensboro 
Susita Asree, Ph.D.
Assistant Professor of Management 
Bachelor of Technology, University of Technology, Malaysia
M.B.A., The University of Toledo
Ph.D., University of Toledo 
Monica Cain, Ph.D.
Associate Professor of Economics 
B.A., Walsh College
M.A., M.S., Ph.D., Wayne State University
George Heilman, Ph.D.
Professor of Management Information Systems 
B.A., Purdue University
M.B.A., Indiana University
Ph.D., University of Arkansas 
Stephanie Joseph, J.D.
Associate Professor of Business Law
B.S. Appalachian State University
J.D. Pepperdine University School of Law 
Melissa Mann, Ph.D.
Assistant Professor of Management 
B.S., Binghampton University, New York
M.S., Mercy College, New York
Ph.D., University of Albany, New York 
Sathasivam Mathiyalakan, Ph.D.
Associate Professor of Management Information Systems 
B.S. (Eng) University of Moratuwa, Sri Lanka
M.B.M., Asian Institute of Management, Philippines
Ph.D., University of Kentucky 
Kal Namit, Ph.D.
Professor of Quantitative Business 
B.S., Thai Military Academy, Bangkok, Thailand
M.B.A., Ph.D., University Wisconsin at Madison
Notis Pagiavlas, Ph.D.
Professor of Marketing and Director, Center of Entrepreneurship
B.A., University of California, San Diego
Ph.D., University of Texas at Arlington
Craig Richardson, Ph.D.
Associate Professor of Economics and MBA Coordinator
B.A., Kenyon College
Ph.D., University North Carolina, Chapel Hill
Departmental Links